Ladies and gentlemen, there are several things that are known to cause apocalyptic situations:
Evil dictators
Nuclear warfare
When good TV gets canned
When Glee, the show with barbed wire wit and snappy music numbers, and Chuck, the action-packed spy thriller/comedy with an endearing romantic angle, both encountered cruel and unusual hiatuses, the world went into shock. This shock kept building and building until the beginnings of the apocalypse showed themselves as the world began to fray.
Last week, I sat in The Nearby Future's conference room, pitching this theory to our new contributor Sarah, and our notoriously lazy writer, Calister F. Wells.
I lowered the lights, walking dramatically in through the back of the room as the powerpoint began.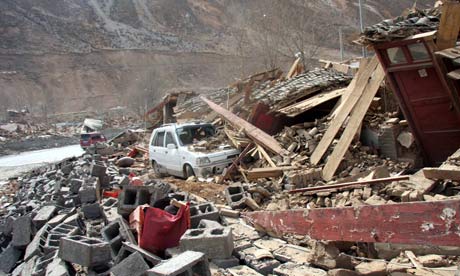 "Earthquake in Yushu, Qinghai province. 100,000 will have to be relocated. 9,900 injured, dead and missing. In New York hospitals, there has been over 50 nurses strikes. The mortality rate in those hospitals during each strike is bumped up by about 20%, or 140 deaths. Icelandic Volcanoes delay flights. All of these disasters have occurred in the past month. Do you know why?" I ask.
"Coincidence?" said Sarah.
"All of this is a precursor to a full-out world war?" Calister asks, almost hopefully.
I roll my eyes and continue. "No. Because, my friends, TV is crap. There are some shows out there that are so horrible they're popular. Take Burn Notice, for example. It was on Saturday Night Live specifically because of it's lack of plot and the fact no one knows what it's about."
"True. It's so cheesy it's entertaining," Sarah says cheerfully.
I continue, sitting on one of the tables in the conference room. "But Chuck and Glee are two survivors of the dark age of television. They're the shining light of humanity. And they've both been put on hiatus. The world cried themselves to sleep after Glee's four month hiatus was announced. Terrorist acts were coordinated against television networks after not one, but two hiatuses sent Chuck fans into a frenzy. Not to mention how the network continued to toy with the emotions of Chuck fans as the will they/won't they renewal talk going on. We seriously considered breaking up with NBC after they kept flirting with the other man, Parenthood."
"What does this have to do with worldwide disaster?" Calister asks, doubtfully as he takes a sip of coffee from his Nerd Herd mug.
"Because," I say, slapping the desk for emphasis, "the world is in ruins! Without Chuck, without Glee, the timer is wound! The countdown begins. Earthquakes, volcanoes, missed flights, absentee nurses. Disasters begin adding up. Think! If Chuck and Glee didn't return this week, the damage could have been catastrophic. It's the snowball effect. Without good TV, we're as good as dead."
[/caption]
purchase discount medication! generic zoloft and weight loss . express delivery, generic . Chuck: Sarah, I need to tell you something.
cipro and flagyl Sarah: What is it, Chuck?
buy online australia discounts. men's health. cheap prices , cholesterol, moneyback policy. Chuck: We're on hiatus.
Sarah: (In Shock) No… That can't be…

Chuck: It does. And you know what a hiatus means…
Sarah: It means the possible end of everything we care about. Like each other.
australia. lowest prices and satisfaction guaranteed! Chuck: And the world.
Sarah: Sure, that too.
cost of zyban and chantix Chuck: Do you know what this means for us?
Sarah: What?
Chuck: War against NBC. Are you in?

Sarah: Let's do this.
And as Calister argued that it was just coincidence and Sarah just smiled and shook her head, I realized that I was on to something here.
NBC, if you're reading this, you better greenlight Chuck's season 4. Nobody likes Heroes anyways. You've got bigger things to worry about. Like the world. And saving it. Y'know, what Chuck does in his sleep?
-Rika
bibliography:
http://www.newsweek.com/id/236916
http://blog.newsweek.com/blogs/wealthofnations/archive/2010/04/15/icelandic-volcano-creates-headaches-for-british-travelers.aspx
http://www.newsweek.com//frameset.aspx/?url=http%3A%2F%2Fwww.guardian.co.uk%2Fworld%2F2010%2Fapr%2F15%2Fchina-earthquake-death-toll-rises
. Includes 8 off the shelf favorites for an easy startup